Learn from the World's Leading Scientists
Scripps Research scientists step out of the lab and onto the stage to share the fascinating stories behind their latest discoveries.
Enjoy previous lectures at any time…from the comfort of your home.
Watch Now
Our Front Row Lecture Series encompasses the depth and breadth of modern science. Take a journey inside the human brain to learn how reactions to emotions can shape behavior. Circle the globe to discover how Scripps Research scientists are helping countries outsmart outbreaks. And get a first-hand look at the future of personalized medicine. Whatever your interest, you'll find a Front Row lecture to enjoy.
RECENT LECTURE: Can Medicines That Alter the Microbiome Prevent Cardiovascular Disease?
Presented: November 13, 2020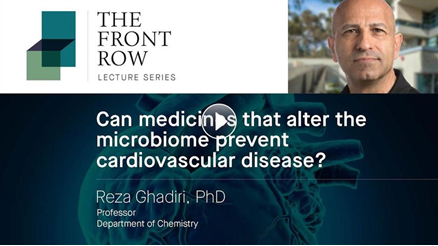 Promoting a healthy gut microbiome may be a powerful strategy for lowering cholesterol and other heart attack risk factors. In this Front Row lecture, Professor of Chemistry, Reza Ghadiri, will present research on molecules that can alter the bacterial population of intestines to a healthier state and how they have shown—through experiments in mice—that this reduces cholesterol levels and strongly inhibits the thickened-artery condition known as atherosclerosis.