Learn from the World's Leading Scientists
Scripps Research scientists step out of the lab and onto the stage to share the fascinating stories behind their latest discoveries.
Enjoy previous lectures at any time…from the comfort of your home.
Watch Now
Our Front Row Lecture Series encompasses the depth and breadth of modern science. Take a journey inside the human brain to learn how reactions to emotions can shape behavior. Circle the globe to discover how Scripps Research scientists are helping countries outsmart outbreaks. And get a first-hand look at the future of personalized medicine. Whatever your interest, you'll find a Front Row lecture to enjoy.
RECENT LECTURE: Designing Universal Vaccines for Influenza and Coronaviruses
Presented: July 16, 2020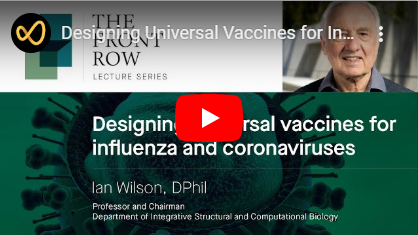 As the ongoing COVID-19 pandemic edges up on the onset of flu season, the need for effective vaccines for these viruses and others is abundantly clear. In this Front Row Lecture, Ian Wilson, DPhil, chair of Scripps Research's Department of Integrative Structural and Computational Biology, discusses advances in designing and developing universal vaccines that could either treat or protect people against all strains of a virus. He focuses on progress developing universal vaccines against influenza and how research on flu has paved the way for current efforts to find a pan-coronavirus vaccine.